It is with great pleasure that we present our latest CD: Meisterklasse
This new album is dedicated to Carl Reinecke and his students.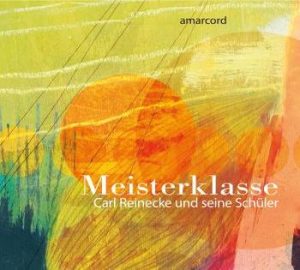 He holds the record of Gewandhauskapellmeister: 35 years he presided over the orchestra. He was also highly regarded as a pianist and composer, shaping generations for 42 years as a piano and composition teacher at the Leipzig Conservatory. Carl Reinecke is one of the most influential artists in the musical city of Leipzig. We dedicate ourselves to him and his master class on his album of the same name: "Meisterklasse – Carl Reinecke und seine Schüler". His oeuvre for male voices alone allows us to draw from the full: more than 70 individual works are waiting to be discovered. We have selected six of them and combine them with works by his compositional students. Among them are European greats such as Edvard Grieg, Max Bruch, Leoš Janáček, Mikalojus Konstantinas Čiurlionis or Ethel Smyth, who until then was the only woman admitted to Reinecke's class and who wanted to penetrate the male domain with enormous motivation. But also composers like Sveinbjörn Sveinbjörnsson, Arthur Sullivan or Charles Villiers Stanford the listener gets to know on the album not only musically, but thanks to the detailed booklet learns valuable biographical details. amarcord celebrates its 30th anniversary as an ensemble in 2022 with several top-class concerts in Leipzig and shows with this new production another facet of the music city and its European radiance in the 19th century that is worth hearing.